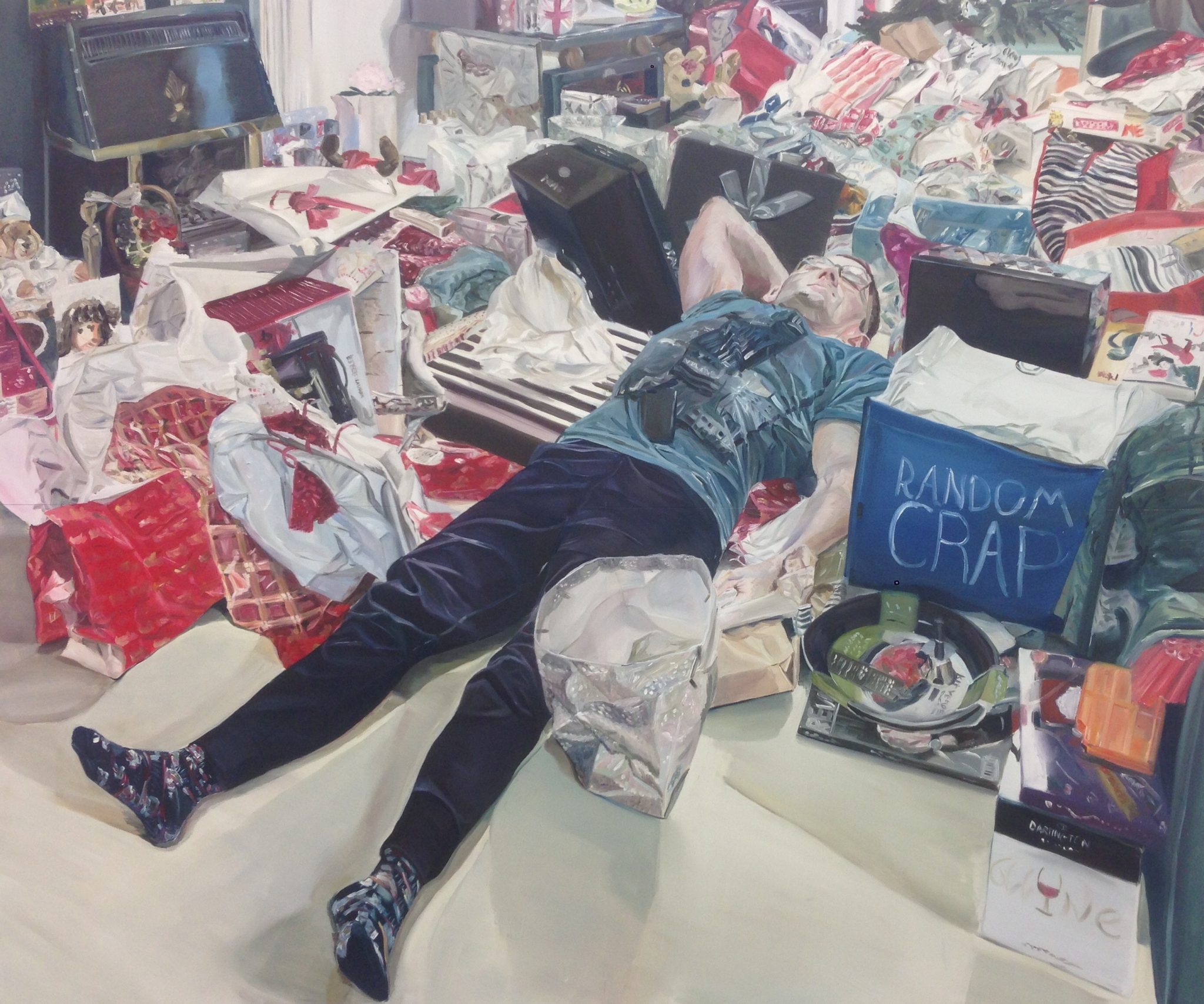 Evenings at home on the sofa, meal times with friends and family, and the scatter of present wrappings are scenes that most Western viewers will be able to relate to. Some of these moments will stand out to us and we will remember them in years to come. Whereas others will pass by quickly and won't be thought about again. Artist Georgina Lowbridge occupies her practice with capturing everyday moments and scenes; here Lowbridge speaks to Jungle about her personal fascination with the everyday, her process of painting and why she makes the effort to look twice.
"I have always had a fascination with everyday life ever since I first saw a Degas painting as a teenager. I found such mundane yet relatable scenes calming." Within her practice Lowbridge also draws upon small moments of humour found amongst her own everyday life, "Last Christmas I opened the sitting room door and saw my brother passed out on the floor. He was surrounded by presents and wrapping paper, having over indulged during Christmas lunch. When I saw him I immediately took a photo, which later became 'Random Crap'." The Christmas day chaos, gifts and over indulgence is experienced by many Western families, though even those who have a quieter Christmas will most likely find themselves smiling at the almost stereotypical 'Christmas aftermath' of this scene.
Standing at over two metres high, Lowbridge's latest paintings greet the viewer in an almost life-size form. Lowbridge comments, "I want the viewer to feel that they could be part of the scene or observe what is happening, and in essence to feel as though they are stood exactly where I was. With such claustrophobic paintings where there are lots of patterns and clutter I felt a sense of grandeur was needed to really emphasise the overwhelming nature of the paintings."
Feeding Time particularly seems to invite the viewer into the scene, as the empty plate at the head of the table meets the viewer's position. Lowbridge explains the photograph leading to the painting for this piece was taken on Mothers Day and depicts her family gathered together for a roast dinner.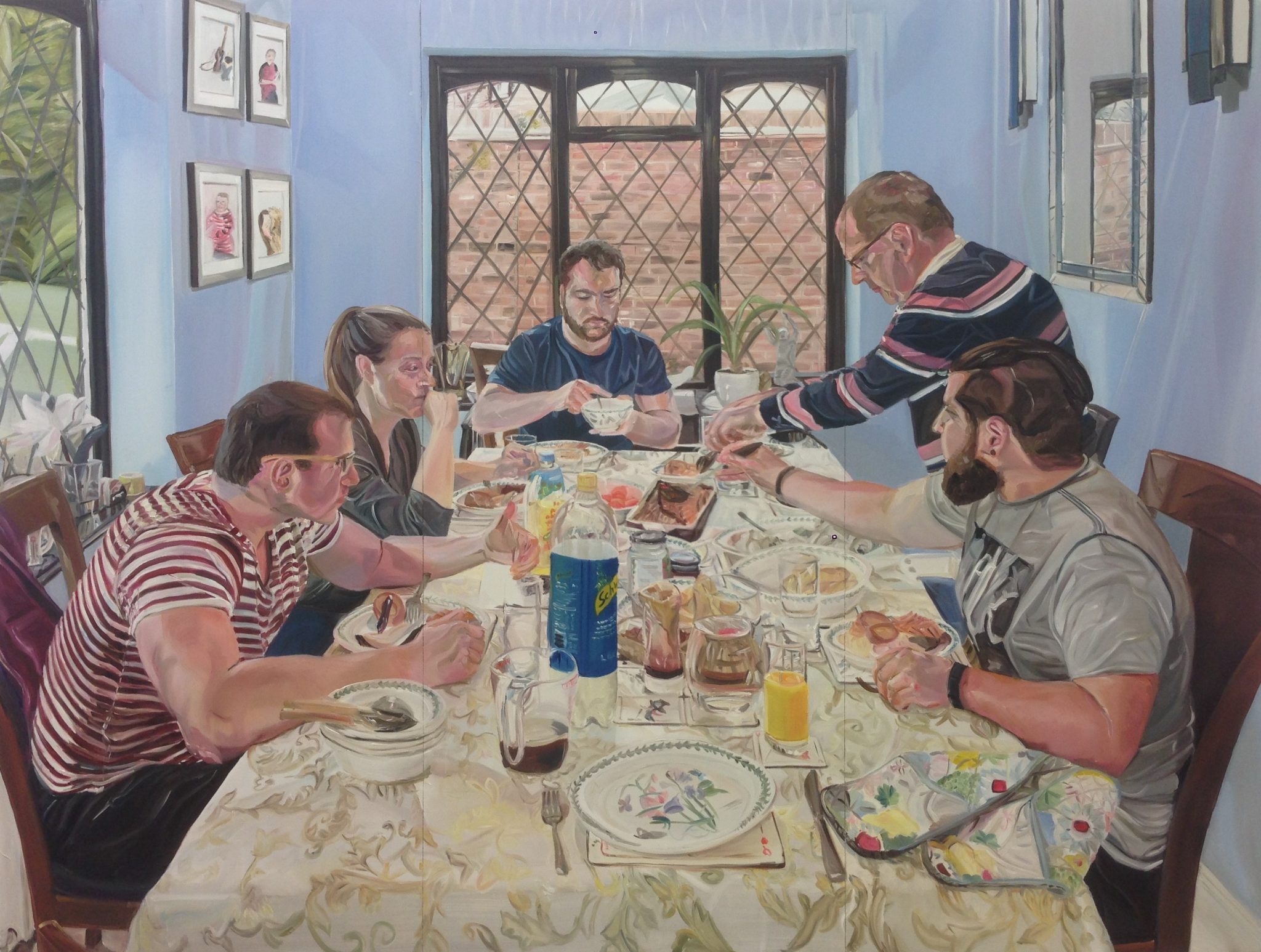 "With Feeding Time I had to stand back and really become an observer rather than fully emerge into the scene… the challenge was to find a spot in which I could fit all the figures in, as well as for the viewer to be able to see the items on the table. The perspective is a result of many photos and many different angles. Ironically for Mothers day, I concluded that the most interesting perspective was whilst my poor mother was still preparing food in the kitchen and I was stood above her empty plate! I liked how it acted as an invitation for the viewer; could it be their plate or is it, in fact, my plate they are stood in front of?"
This invitation to be part of the scene is also echoed through the act of sharing food. When viewing Feeding Time, the viewer arrives at the scene before the meal has begun; they are invited to visually join the family in the sharing of a roast dinner, which in itself is widely considered to be a comforting British meal.
When discussing Feeding Time Lowbridge light-heartedly draws upon the almost satirical connections between different sitters at the table and the roles they take on; "We have my brother on the left with his strong hand gesture dominating conversation, which is so typical of him, his fiancé looking bored, my boyfriend in the back helping himself to food, my dad carving some meat, acting as the traditional man of the house, and my brother next to him reaching across to grab more food. It is a real chaotic scene that I think many British families can associate with and chuckle as they recognise the chaos and characters of the family roasts within their own family."
Lowbridge's fascination with the relationships and roles of those around her is carried across her practice. Her painting, Date Night, is made comical through its title, as the female and male sitters are depicted engaging in completely separate activities. "Their evenings were often spent with the male playing on the PC, whilst the girlfriend sat on the sofa watching Netflix. In fact, she had to request that he moved the computer downstairs otherwise they never saw each other, which I found particularly hilarious! I find it quite a funny dynamic but obviously for them it works!"
The familiarity of Lowbridge's paintings undoubtedly brings a sense of comfort and laughter to their viewers. Physically stepping into a stranger's house for dinner, or sitting on an unfamiliar sofa could be considered quite awkward. By drawing on her own personal relationships with friends and family, Lowbridge creates an atmosphere that allows the viewer to feel at ease; she invites us to reflect and become part of her own everyday experiences.
See more of Lowbridge's work here.
Words: Emma Bourne