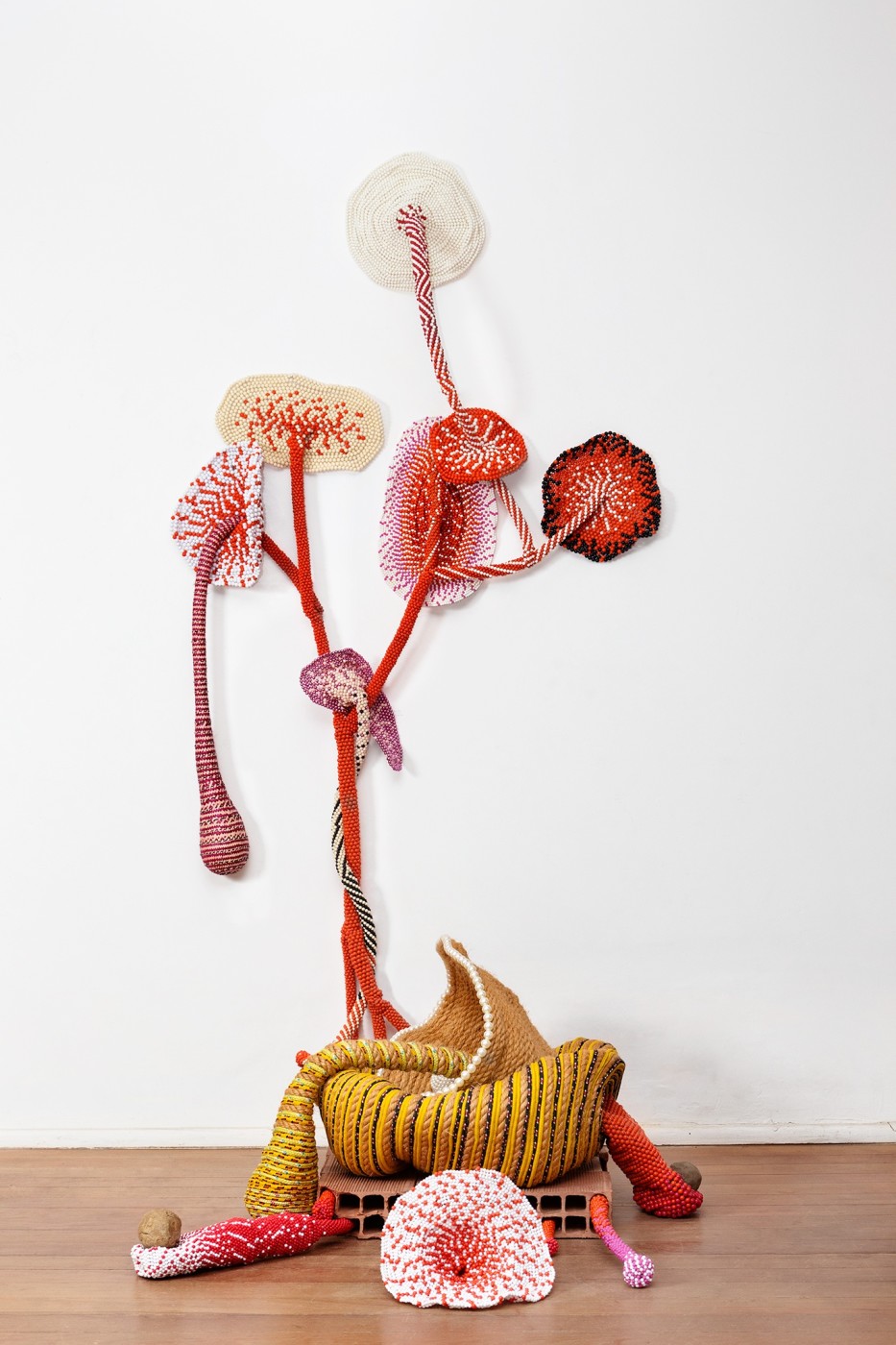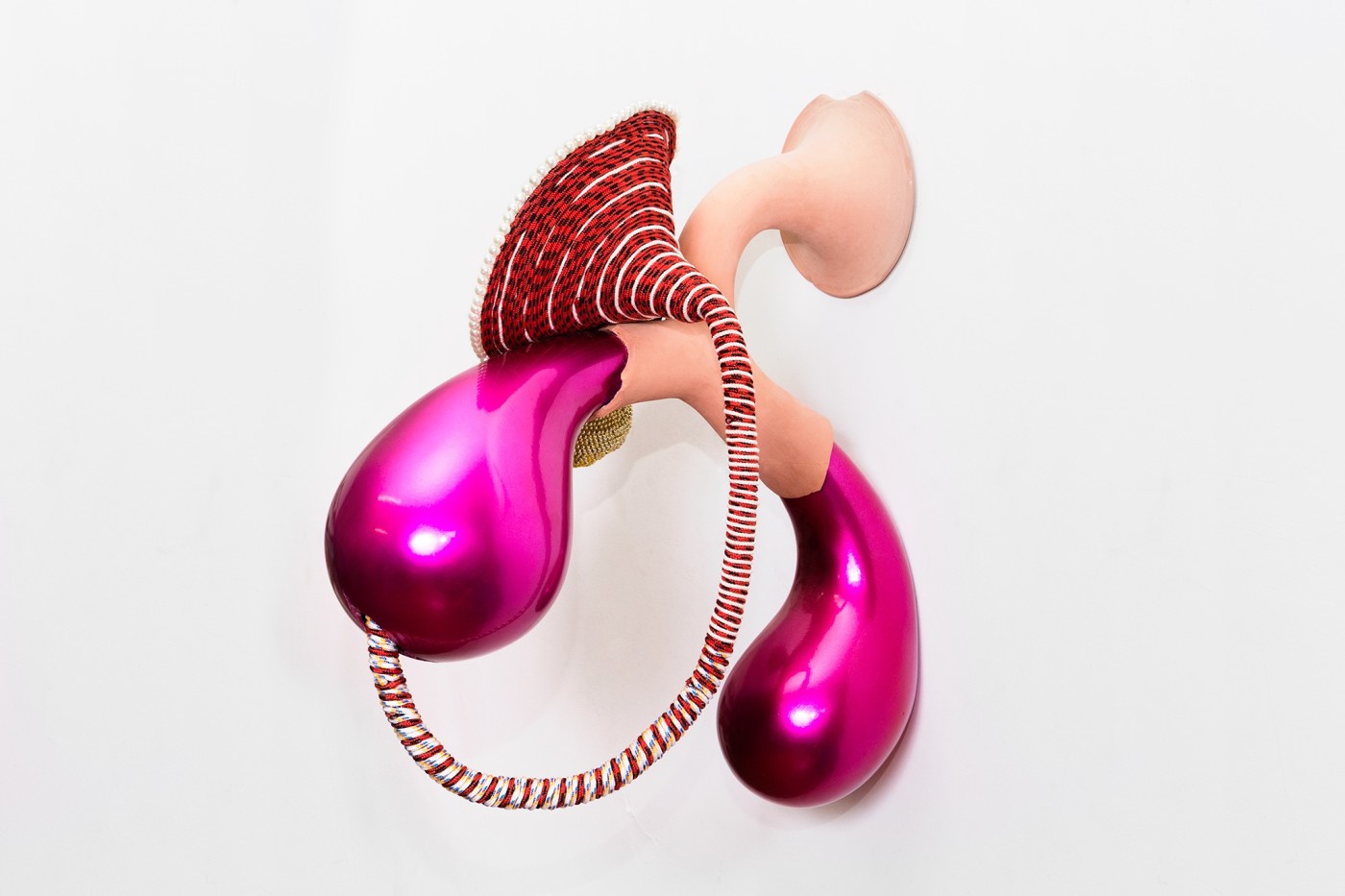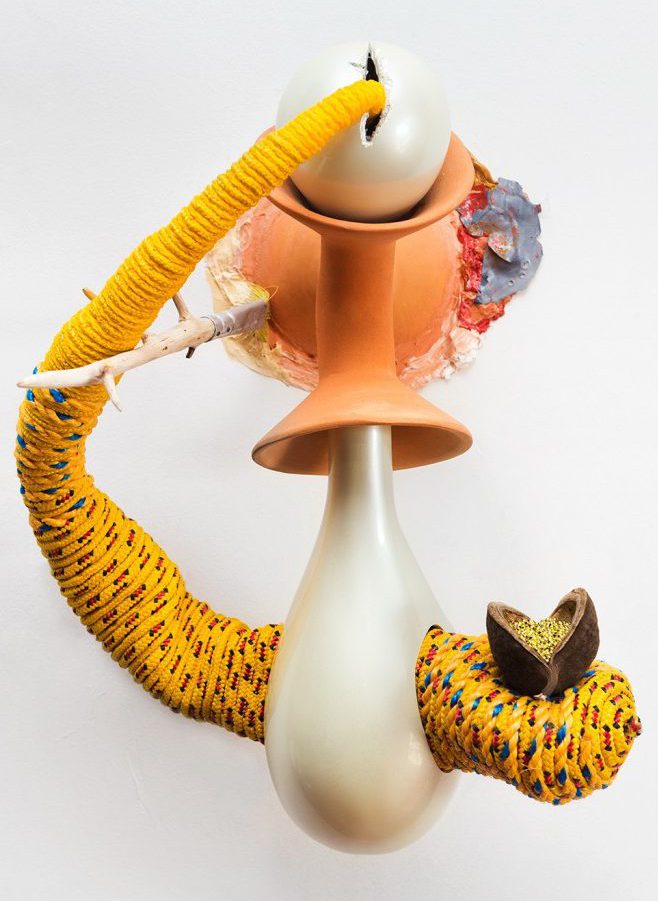 Since the early 2000s, Maria Nepomuceno has been weaving ropes and braiding straws to create colourful, playful installations. Born in the Brazilian seaside town of Rio de Janeiro, Nepomuceno grew up surrounded by richly coloured buildings, carnivals, deep blue waves and white washes of sandy beaches. The play between the colourful manmade and the natural form can be traced across Nepomuceno's practice. Brightly coloured ropes take the form of loose organic structures that can often be seen to resemble trees, plants or leaves. At times Nepomuceno incorporates manmade items, such as beads or pearls into her structures, and at other times natural components, such as soil and plants.
Currently showing at the Victoria Miro gallery, Nepomuceno's latest body of work Sim (translating to 'yes' in Portuguese) expands her practice, illuminating the visual links between the organic forms of the ropes and the shiny concrete manmade forms of the pearls.
In Sim, giant sparkly pearls hang from brightly coloured woven structures and woven structures pour into giant pearls. Handcrafted and delicate, it is hard not to appreciate the sheer amount of time put into their creation. Though these forms are not always as pristine as they appear; Nepomuceno notes "Most of the pieces in the exhibition have a deliberate crack or fault, or they contain a piece of ceramic or fibreglass that appears to split open. There is very much this idea of something that, at one moment, went wrong or failed, and it had another chance. I want the work to have a spirit of possibility and of generosity."
Maria Nepomuceno: Sim will be on display at the Victoria Miro gallery until 7th January 2017
Words by Emma Bourne
Quote taken from Martin Coomer's 2016 interview with the artist.